Just under two months to go folks until you Ride the Beloved Country. Can you believe it? From now on we will send out more newsletters to keep you up-to-date, nag you a bit and to keep you focused and excited.
Please try to get your overactive brain to slow down a bit to read these important pre-ride "briefings". They will contain loads of serious and not so serious wisdom from the organisers who after 8 years have a reasonable idea of what you need to do to make your journey a little smoother without having to think.
In this newsletter
The route is king
Important info for our international riders
N3TC Supporter Tour
Book shuttles
Book massages, physio and yoga
Book mechanics packages
Bielie Mielie 25 March
Thaba Trails Training/Info ride 1 and 2 April
Alternative accommodation
Reminders
The Route is King
We have been carving out some really exciting new sections of single track on Day 4, Day 5 and Day 6 for those that have ridden before and for those that haven't, you should be a happy camper from start to finish.
We will be doing all 9 days of the dry run starting Friday 3 March – follow us on @joberg2c_ and our Facebook page for updates from the route. We have had incredible rain throughout the country so we may need our canoes.
For our international riders
Do you have your visa sorted? If you are travelling with children have you checked rules regarding unabridged birth certificates?
Have you arranged proper travel/medical insurance to ensure that you are covered?
Please check out our easy international logistics info page here
Book your shuttles asap. More info here.
N3TC supporter tour
This incredible supporter tour provided by N3TC has proven to be a highlight for our camper drivers and supporters staying at and B&B's who want to get a little closer to the riders and to experience awesome hospitality of N3TC. Bookings can be done through elja@joberg2c.co.za.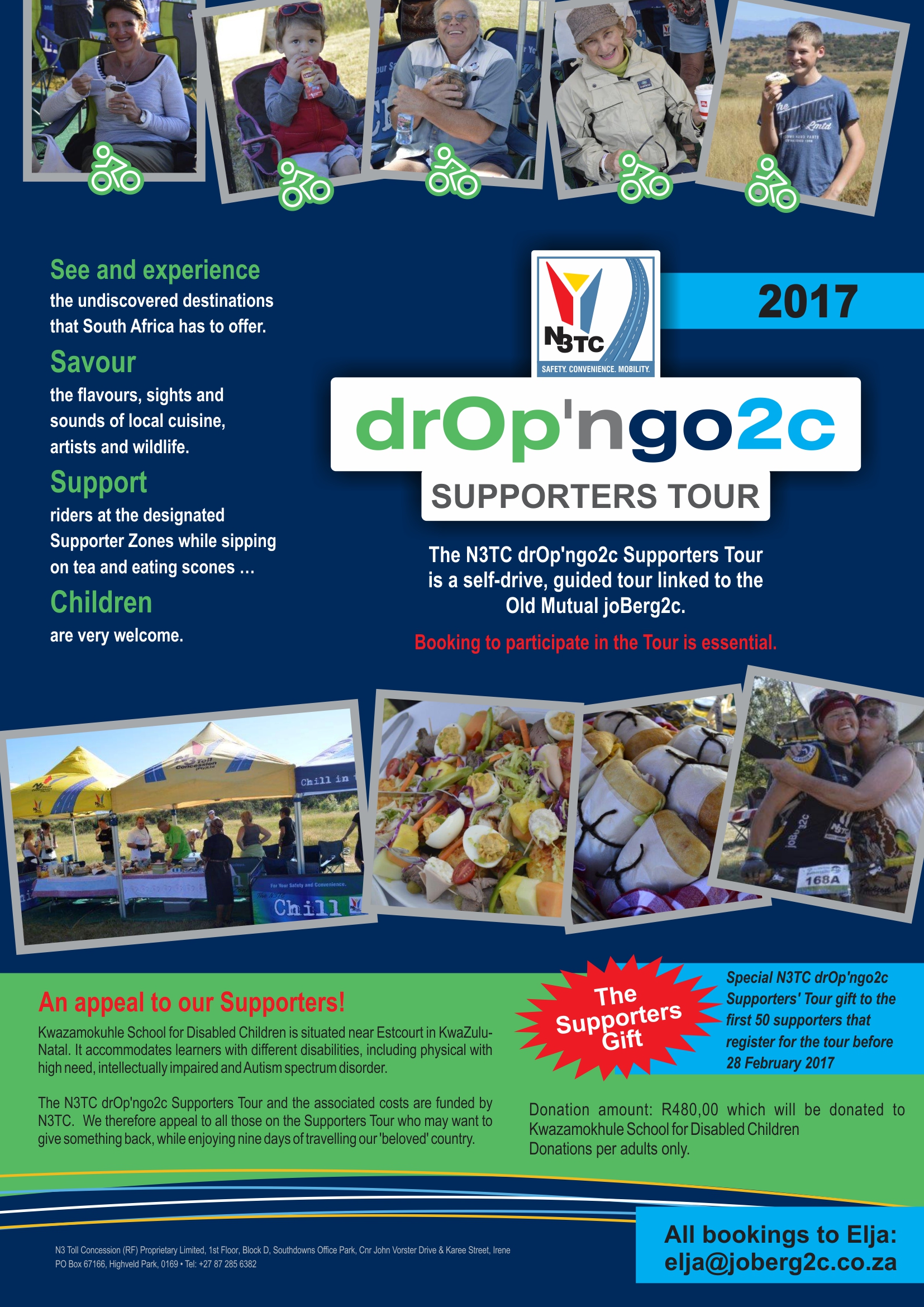 Book massages, physio and yoga – Old Mutual joBerg2c recovery zone
Although we seemed stretched to the limit at times we will always bend over backwards for you as with our team of awesome physio's, masseurs and our yoga offering creates a wonderful happy environment to keep you on the bike. More info and bookings can be done here.
Mechanic packages – bookings
For those of you who are technically challenged or who don't want to think about your bike between stages, book a mechanics package from one of our many official mechanics. More info here.
This is not necessary if you feel you know what you are doing mechanically as we do have walk-in's in case of serious issues.
Bielie Mielie 25 March – A GPS event promoted by joBerg2c
If you are looking for a great training ride that is GPS too then enter and ride the Bielie Mielie on 25 March – not only does it use parts of Day 2 and Day 3, you will also get a good idea of the Free State vibe and people. joBerg2c helps Reitz with the promotion of the event and ensuring the route is available through GPS – all proceeds go to the Reitz Hostel. To enter go here.
Thaba Trails April 1 and 2 (Johannesburg based training /info weekend)
For all our Gauteng based riders, join us on April 1 and 2 at Thaba Trails South of Joburg for a fun two days of riding, banter and GPS info. Rides start at 8am and are free for joBerg2c riders.
There will be two fun routes put together – one for Saturday and one for Sunday.
Please rsvp to Roxanne@joberg2c.co.za.
Alternative accommodation options on route
We have a few spots open for alternative accommodation if you feel like a break from tents.
Frankfort Skool (Day 1) – hostel accommodation right next to the race village R200 per person sharing – contact Marise on 0828506252 or 058-8131010 or klerewinkel@wilgieland.co.za
Reitz Skool (Day 2) – hostel accommodation 2km's from the race village R280 per person sharing. The school will also have a shuttle service available which will be travelling to and from the Race Village every 40 mins on the Saturday and more frequently on the Sunday morning
Em'Seni Camp (Day 4) – dorm style in the race village – email Roxanne@joberg2c.co.za
Em'Seni Kingfisher Camp (Day 4) – upgraded canvas tents which have full linen and proper beds for additional comfort – email nicky@bergandbush.co.za
Clifton School dorms (Day 5) – hostel accommodation in the race village – email Roxanne@joberg2c.co.za
Some reminders
Medical – make sure you have proper medical aid / insurance
We are a GPS navigation event which means you will need to have a GPS unit or watch that can follow GPS tracks. You can find GPS support on our website here.
That's it for now. There will be more build up newsletters in the next few weeks. Enjoy your riding, don't over train as you cannot reverse fatigue. Keep safe and don't do any back flips before the event we want to see you on the start line in one piece.
The Old Mutual joBerg2c Team
Save
Save
Save
Save
Save
Save
Save